Economic overview
Geopolitical risks in Q1 were dominated by the Russia-Ukraine war which triggered shocks across global markets and led to a significant increase in commodity prices and food prices. However, despite strong headwinds, the Ministry of Finance and National Economy (MOFNE) reported strong performances across all sectors:
This positive performance is generally attributed to the post-pandemic economic recovery plan launched by the government, as well as an increase in price of oil driven by geopolitical risks.
The IMF is projecting economic growth of 3.3% and an inflation rate of 3.5% for Bahrain in 2022, driven by an above recent market average oil price caused by the war in Ukraine and associated sanctions. Improvements in the non-oil sector should also boost national economic growth.

Real estate market overview
Bahrain's real estate market is inextricably linked to its economic performance – and robust economic performance in the first quarter of 2022 has led to a strong rebound in some sectors of the property market.
The hospitality sector performed solidly with both occupancy and average daily room rates (ADRs) improving. According to MOFNE, occupancy rates for four- and five-star properties increased to 55% in Q1 2022 (compared to 40% in Q4 2021), driven by the Formula 1 Gulf Air Bahrain Grand Prix 2022, the relaxation of COVID-19 quarantine restrictions, and the return of international tourism. ADR rates for four- and five-star hotels ranged from BHD30 to BHD80 a night.
The retail sector has shown a remarkable increase in footfall since the relaxation of COVID-19 restrictions and most observers expect to see further growth during 2022 in line with improvements in the general economy. Headline rentals range between BHD5/m2 to BHD15/m2 with prime yields for retail investments approximately 7% -8%.
Weak occupier demand continues to negatively impact activity in the commercial office market, with an oversupply of office space, a growth in working from home and the rise of the flexible workspace concept. Tier 1 offices can be rented for BHD4/m2/month to BHD 10/m2/month, while prime yields are in the order of 8% to 10%. Vacancy levels for commercial space are estimated to be 35%-40% – with rental rates varying by location as shown below: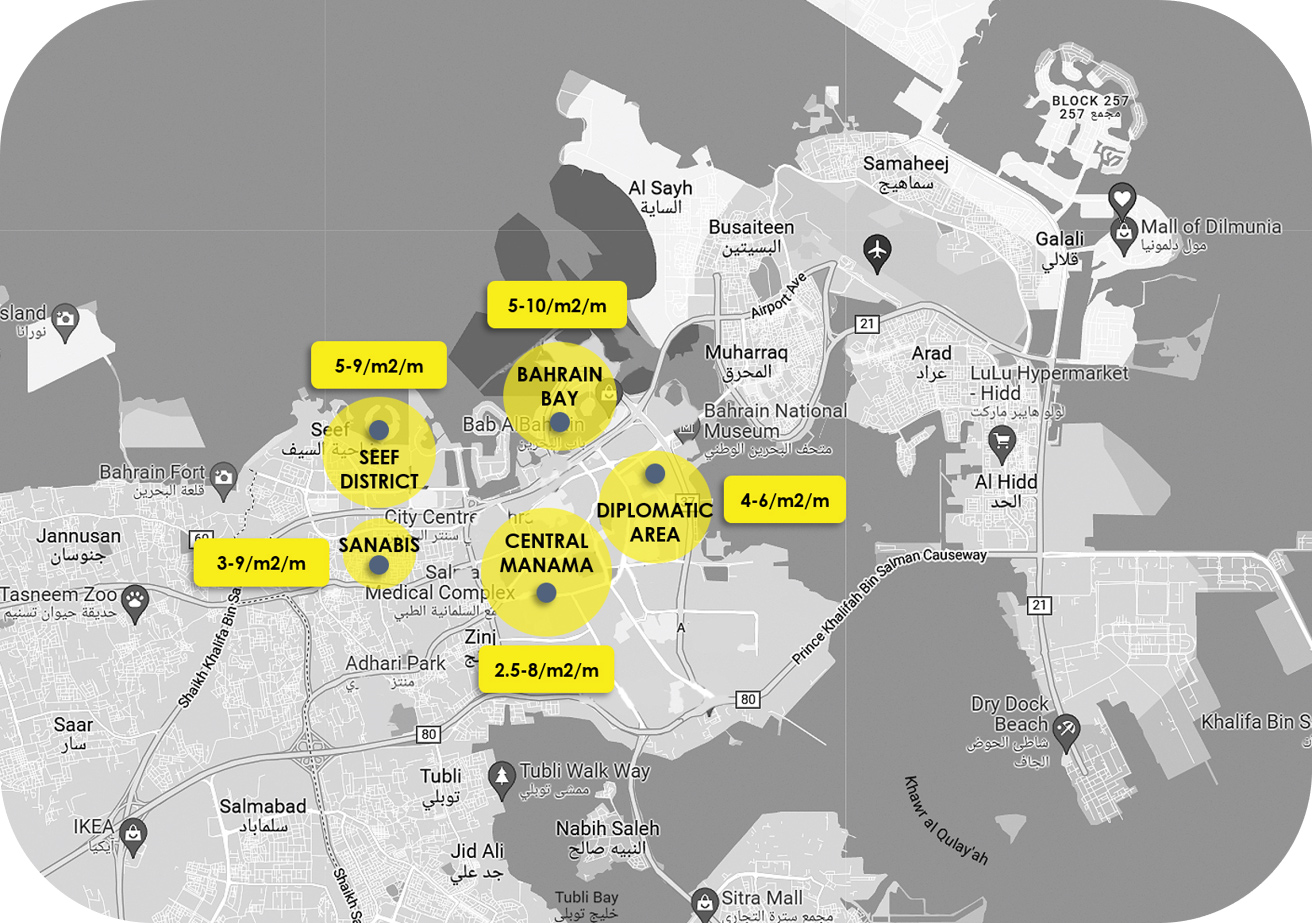 Bahrain's residential sector is generally static due to suppressed demand and a glut of residential apartments although sales are improving as the economy recovers. Typical apartment rents are shown below: